How do I find articles that cite a particular resource?
Looking at the citations (looking backwards in the literature) used in relevant papers is one important step in conducting research. Another is to look forward in the literature. In other words, see if any articles have cited the articles you have already identified as important to your research.
Although there is a pretty nice online tutorial available for Web of Science, here are a few hints that will make searching a little easier:
REMEMBER: All the information in Web of Science is taken directly from articles' citation lists. If there is a misspelling, or inaccuracy in the article's citations, then it will also be in Web of Science.
From the Web of Science main page, select CITED REF SEARCH. Select the years and indexes you wish to search, then fill in the information about the article on which you wish to find ctation information (i.e., the original article):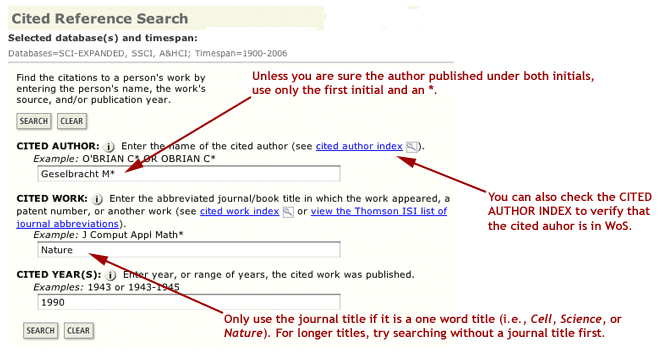 If the original article has been cited by any journal included in Web of Science, you will see a screen listing possible cited references. Select the appropriate cited reference(s) to continue your search. Notice the following example has three possibilites. The citation in blue is the correct citation. The other two were each cited incorrectly in an article. All three should be selected for a complete search.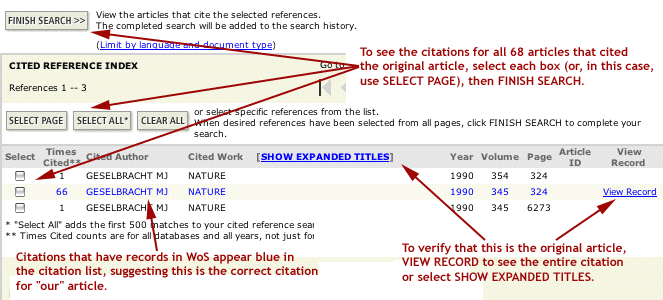 For some more prolific authors, it can be difficult to distinguish the particular article for which you are searching. You can use VIEW RECORD for each possible citation, or use the SHOW EXPANDED TITLES option, which provides a shortened version of the titles on the citation list for which a record appears in the database.

After selecting the appropriate cited reference, choose FINISH SEARCH to view the articles that cite the original article. The search results will be on the next screen.