David Isaak
Data Services Librarian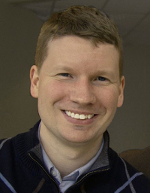 Contact Information
Phone: (503) 517-4890
Email:
isaakd@reed.edu
Office: L195
Areas of responsibility:
Reference and Library Instruction
Government Documents
 Curriculum Vitae
 Research Guides
ORCID
 GitHub
 Google Scholar
 LinkedIn
As the Data Services Librarian, I assist students and faculty with finding and acquiring datasets, writing data management plans, archiving data, and data citation. I help coordinate the Data @ Reed Team and I am the Federal Depository Library Program coordinator for government documents.
As the library liaison to the Linguistics and Psychology departments, I provide instruction in research skills, database searching, and using citation management software.
I also participate in the library's Personal Librarian program and help first-year students with any research needs.
I provide classroom instruction, individual or small group consultation, and workshops on these topics.
Availability
I am available to work with students and faculty in the classroom, lab, reference desk, or by appointment. My office hours are 11am-12pm on Thursdays and Fridays. 
You can book an appointment with me by clicking the button below.