David Isaak
Director of Collection Services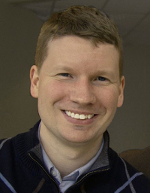 Contact Information
Phone: (503) 517-4890
Email:
isaakd@reed.edu
Office: L118
Areas of responsibility:
Collection Services
Government Documents
Reference and Library Instruction
Curriculum Vitae
 Research Guides
ORCID
 GitHub
 Google Scholar
 LinkedIn
As the Director of Collection Services, I oversee the department responsible for purchasing, describing, managing, and analyzing our collection of books, databases, journals, and more. I work with a terrific team to make sure our print and online collections are accessible via the library catalog, database page, and research guides and that they support the research needs of our students and faculty. In addition, I coordinate the Federal Depository Library Program for government documents.
I am also the library liaison to the Anthropology, Linguistics and Psychology departments and participate in the Personal Librarian program to help first-year students with any research needs.
I provide instruction in research skills including information literacy, database searching, citation management software, and research data management best practices.  
Availability
I am available to work with students and faculty in the classroom, in the lab, at the reference desk, or by appointment. My office hours during the semester are 2-3pm on Mondays and 4-5pm on Thursdays. To meet at another time, you can book an appointment with me by clicking the button below.