Laura Buchholz
Discovery & Systems Librarian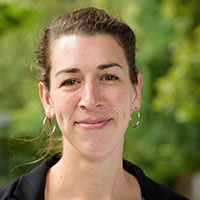 Pronouns
she/her/hers
Contact Information
Phone: (503) 517-7629
Email: buchholl@reed.edu
Office: L190
Areas of responsibility:
Web Site
Reference and Library Instruction
Collection Services

As Discovery & Systems Librarian, I make sure our infrastructure ecosystem is humming along as efficiently as possible. I manage the development of Reed Digital Collections, our digital collections software built here at Reed as a Library/IT collaboration. Wish it did something it doesn't yet do? Let me know!
As the MALS liaison, I support and collaborate with students and faculty doing research for Reed's only graduate level degree. I provide instruction in research skills and strategies, and collaborate with students and faculty with their research needs via classroom instruction and individual consultation.