Kyle Napoli
Electronic Resources Librarian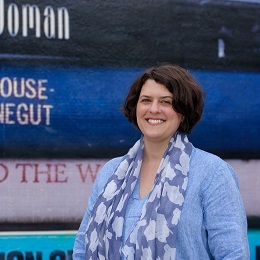 Pronouns
she/her/hers
Contact Information
Phone: 503-777-7561
Email: kylenapoli@reed.edu
Office: L116
Areas of responsibility:
Collection Services

My role is to make sure our many electronic resources – databases, online journals, ebook packages, etc. – meet the needs of our faculty and students. I ask questions like: Do we have the right resources for teaching and research? Are we getting enough value out of them relative to their costs? Are they working as they should? How can we make sure that these resources are findable and accessible? What do we need to know about emerging formats and platforms?

I am an alumni returnee, having graduated from Reed as an English major. I worked in marketing and communications both before and after my MLIS degree, and I served as the library's acquisitions & serials specialist before taking on this role.