Kyle Napoli
Acquisitions & Serials Specialist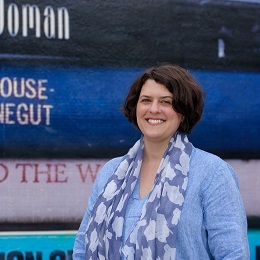 Pronouns
she/her/hers
Contact Information
Phone: 503-777-7561
Email: kylenapoli@reed.edu
Office: L116
Areas of responsibility:
Collection Services

As the Acquisitions and Serials Specialist, I make sure library materials -- print and electronic, standalone resources and ongoing periodicals -- are ordered, paid for, and received. These requests come in from faculty and our librarians (if you have a request as a student, please contact one of our subject liaisons). The fun part of this work is getting to unwrap every print periodical and unbox every new book or DVD.
I am an alumni returnee, having graduated from Reed as an English major. I worked in marketing and communications both before and after my MLIS degree.